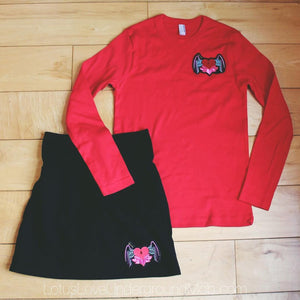 Little Black Mini Me
Sale price Price $19.99 Regular price
"I ordered 2 to wear over my swim bottom. The skirt does not shrink after washing. I'm buying another skirt. 3 is a charm! :)" -Anna
Hey friends!— I am ❤THE LITTLE BLACK MINI ME SKIRT❤ and you deserve to have me in your wardrobe now! Not only am I mini and mobile , I'm your perfect necessity on any day! Like literally, you can take and pack me everywhere. I give you mini-magical excellence 💎 that you can not resist. I'm usually not one to brag, 🙈 but here's why everyone else is obsessed 😍 with me. I am:
❤100% cotton
❤Made with love in the USA
You'll also love that I have a thick elastic waistband. Pair me with opaque tights, stockings, or the Flow Shirt or Dust Your Shoulders Off Fleece for an instant outfit!